Interlight + Building Symposium to be held on November 26
The Building session will be moderated by Viktor Svintsov, Executive Director at RAEC.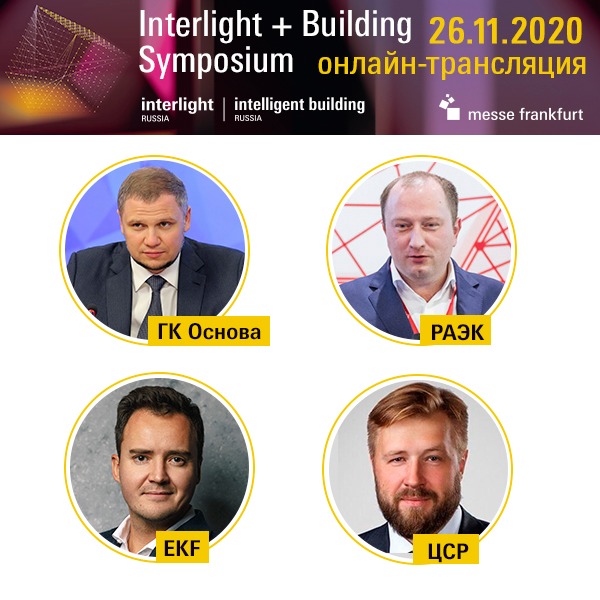 According to the data gathered by the Center for Strategic Development Foundation, against the background of the crisis at the end of 2020, revenue in the construction industry is expected to decrease by 17%, and profits – by 16%. How will market conditions and pandemic-related changes in end-user needs affect the manufacturers and distributors of electrical equipment, security systems, and facility automation? This will be the topic of expert discussion during the Building session at the Interlight + Building Symposium.
The speakers will be:
· Viktor Svintsov, Executive Director at RAEC;
· Evgeny Oistacher, Founder of the EKF brand;
· Vladislav Onishchenko, President of the CSR;
· Aleksandr Ruchyev, President of Osnova Group;
· Oksana Zhukovskaya, Project & Product Office Director at MRF Center of Rostelecom;
· Mikhail Trifonov, CEO at Delta Controls;
· Roman Vroblevsky, Head of Technology for Buildings and Structures Department, Honeywell;
· Elena Ivanshina, Head of the analytical group at MegaResearch*.
Interlight+Building Symposium speeches will be broadcast via a convenient online platform. All listeners will have the opportunity to communicate in the event chat and ask questions.
To get a link to the online broadcast, please register in advance on the event page for free.
* Interlight+Building Symposium schedule may be changed. See the latest event news and new speakers on the official event web page.